Jack the Nipper
in
Coconut Capers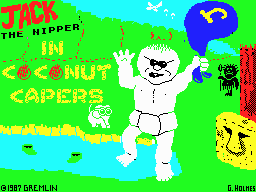 The Map
The map comes in three sizes:
This is a mosaic of actual-size screenshots of each of the 190 rooms. Total size is 8192×960 pixels.
One fourth of actual size in eight files. Total size is 4096×480 pixels.
One thirty-sixth of actual size in a single file. Total size is 1360×160 pixels
The Pranks
The coordinates used in the list below refers to the position of the rooms on the map; (1,01) is the upper left room, and (6,32) the lower right.
Drop the grease (2,02) onto Tarzan's rope (2,03) to make him lose his grip and fall into the water
 
Drop the rope (5,07) from the dead branch (6,08) when the pygmy is directly below to trap him
 
Drop the onion (6,11) in the room with three hyenas (3,05) to make them cry
 
Drop the mouse (5,06) beside the elephant (2,25) to scare him
 
Go close to the cannibal (2,13) so that he chases you; escape by the rope and he will fall into the water
 
Drop the toffee (5,16) when standing on any log (2,17-2,18/5,24-5,32) to render all crocodiles harmless by making their jaws stick together
 
Drop the woodworm (5,26) beside the bridge (4,17) to destroy it and to gain access to ten rooms below it (5,17-6,21). Note that this makes it impossible to get from the right hand half of the map to the left. The woodworm reappears (6,20) for no apparent reason
 
Shoot the beehive (2,27) to infuriate the beeswarm
 
Drop the honey (5,28) in the hut (2,26) after having shot the beehive to make the bees chase out the band of pygmies
 
Shoot the tasmanian devil (3,26) while carrying the pineapple (5,31) and one of the dynamites (3,28/2,32)
The End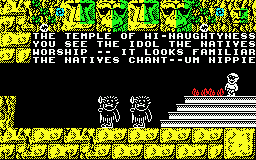 After completing all 10 pranks, you may enter the temple (2,31) to end the game.
The Keys
Z

Left

X

Right

O

Up

K

Down

0

Fire

Q

Pause/Quit
The Credits
© 1987 Gremlin Graphics
Coding and sprite graphics: Greg Holmes
Graphics and screens: Terry Lloyd
Odds and ends: Dave Pridmore, Andy Green, Chris Shrigley and Bob Toone